The Biggest Wedding Dress Trends for 2017
Wedding Dress Trends 2017
Colour – An unexpected trend in the latest wedding dress collections, we're seeing more dresses in a light shade of blue or champagne or light grey. It's a subtle shade different to ivory and not garish.
Bows – Big bows with flowing ribbon can be seen on a number of the latest dresses, mainly at the back at the top of the skirt, but there are bows at the top of a dress at the neckline and on the hip. A few subtle nods to the growing trend will see small bows on the belt line of some dresses.
Plunging Necklines – Another quite unexpected trend for 2017 is a rather deep plunging neckline. The style isn't too revealing in most of the designs showing a thin opening, but other designers have been a little more daring.
Cut-Outs – A style that runs parallel to plunging necklines, cut out dresses also show off a little more flesh than usual. Commonly, the cut out dresses see sections cut out at the waist, but a few dresses have followed high street fashions, cutting the shoulder sections off and leaving sleeves on.
3D Flowers – Floral dresses have always been popular, but mainly just in the lace detailing. This year, expect to see fabric flowers stuck onto dresses in beautiful arrangements.
Toppers – A sort of veil for your body, probably a trend started from plunging necklines and more skin showing, pretty lace toppers are a pretty way to cover up and add a little extra warmth.
Bardot – As we're seeing more and more often in high street fashion, off the shoulder styles have hit the wedding industry too with more and more designs loosing the sleeves, exposing the shoulders and neck more elegantly.
Long Sleeves – In contrast to quite a lot of 2017 wedding dress trends, designers are opting for long sleeves mostly in lace.
High Low – It's a trend that's come and gone but has made a resurgence in 2017. Designers give the bride a chance to have a train but show off their legs too with a dress that has a flowing skirt but lifted at the front to reveal a shorter length.
Sculpted Shoulders – a dress with long sleeves and perhaps a plunging neckline may also show off sculpted shoulders, an unusual but romantic touch.
Cristiano Lucci
Ashley & Justin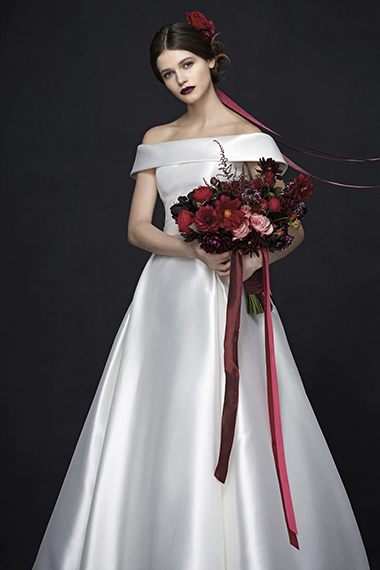 Alan Hannah