Congratulations to Naomi and Sean!
We catch up with Isle of Wight couple Naomi Jones and Sean Taylor. Our 2010 Dream Wedding competition winners are currently busy with their wedding planning and we're delighted to report that their special day looks like being an amazing success!

Congratulations! Naomi Jones simply couldn't believe her luck when she received a call from UKbride telling her the couple had won their dream wedding.
"We've never won anything in our lives!" says Naomi. "The phone call came just before Valentine's Day, so the timing was perfect, and a month later we're now putting the finishing touches to organising our big day, which is great!"
The couple met at school and began dating in April 2009. Becoming officially engaged at Christmas, Naomi joined UKbride and began planning her wedding, incentivised not just by the opportunity to win a wedding, but by UKbride's many wedding planning tools and features.
"I've never really been 'wedding-ey' so I really didn't know where to start." Says Naomi. "But I've found the site really handy. I was able to create a guest list which was useful for firming up numbers, and that also enabled me to create a table plan really easily."
In addition, Naomi enjoyed browsing through the site's library of wedding dresses to find her dream wedding dress, and used UKbride's lively forum.
Two months after finding out she had won our spectacular dream wedding prize, Naomi and Sean, who are from Cowes, Isle of Wight, say that plans for their special day are falling into place and the couple is looking forward to a superb autumn wedding and have already seen their venue, just a short drive from their home.
"Landguard Manor have been really helpful." Says Naomi. "It's a gorgeous venue with two entrance halls, one the marriage room, the other a reception hall for guests. The whole place has pillars and marble, it's beautiful!"
In addition, Naomi and Sean are looking into Caribbean destinations for their honeymoon and have organised their formalwear for the five groomsmen with Formally Yours, the bridal gown and the three bridesmaids' gowns with Mori Lee and jewellery with F Hinds.
The couple is currently planning their hen and stag evenings with Maximise, and booking their wedding photography and cake with local suppliers.
In their spare time and - in between wedding planning - photographer Sean manages a football team in East Cowes and plays the guitar, whilst hairdresser Naomi enjoys gardening and walking the couple's chocolate Labrador Buddy.
The couple will marry on 30th October… best wishes and congratulations from all at UKbride!
Check back regularly for updates on Naomi and Sean's wedding planning.
Our Dream Wedding Partners…
We've selected some of the very best wedding partners to give Naomi and Sean the dream day they deserve, creating our dazzling day are the following experts:
Landguard Manor:
Naomi and Sean's venue, Landguard Manor, is an 18th century manor house set in nearly five acres of beautifully manicured grounds. With three magnificent reception chambers boasting open fireplaces and a gorgeous restaurant, the civil licensed venue is a dream wedding venue indeed, able to cater for 90, with larger weddings hosted in the hotel's marquee!
Find out more at www.landguardmanor.co.uk.
Top Drawer Holidays & Sandals Honeymoon:
A dream wedding necessitates a dream honeymoon, and our partner for Naomi and Sean's honeymoon, Top Drawer Holidays and Sandals Honeymoon, specialise in creating the most luxurious bespoke wedding and honeymoon packages.
With luxurious destinations like Jamaica, St Lucia, Antigua, the Bahamas, and partners including British Airways, Thomson, Thomas Cook and Royal Caribbean.
Top Drawer Holidays has over 100,000 hotels and 300 airlines at their disposal, so they can always create a dream holiday that suits you.
The company also provides a holiday 'gift list' so your guests can all club together to fund an unforgettable wedding treat!
Find out more at www.topdrawerholidays.co.uk.
Mori Lee Designer Dresses:
Designed exclusively for Mori Lee by Madeline Gardner for her New York Collection, Naomi's bridal party will wear beautiful Mori Lee gowns.
Mori Lee dresses are the epitome of elegance with feminine designs and beautiful fabrics.  Slim A-Line skirts and bodices decorated with sparkling beading, glamorous halter-neck designs, to princess style tulle dresses for perfect fairytale weddings.  Mori Lee designs feature a collection of 'destination dresses,' with delicate chiffon dresses ideal for an exotic beach wedding.
The collection offers tulle, taffeta, organza, chiffon and duchess satin in shades of Ivory, White, Gold and Pearl to complement brides on their wedding day. Each dress features its own personal touch of exquisite embroidery lace, stunning beadwork or glistening hand-sewn Swarovski Crystals.
Find out more at: www.morilee.com.
Suit Hire from Formally Yours:
Naomi and Sean's groomsmen will certainly look dapper, with formal suit hire provided by Formally Yours. The retailer allows the groomsmen to hire any complete outfit for just £65, and all suits are delivered eight days before the wedding for complete peace of mind, collected two days after your wedding.
Operating entirely online, it's great for weddings in which the groomsmen will come from different parts of the country, and all suits include jacket, trousers, shirt, waistcoat, cravat and handkerchief for a really polished look. With ten styles and loads of accessories online, plus free fabric swatches available, the company provides the ultimate service for any dream wedding.
Find out more at: www.formallyyours.co.uk.
Jewellery from F Hinds:
Naomi and Sean will exchange rings courtesy of F Hinds, whose 100 branches and 150 year reputation are a reflection of the company's experience providing quality jewellery for any occasion.
The company's internet site features a wedding guide with advice on how to choose your engagement rings and wedding bands from different metals to patterns and finishes, size and shapes, alongside a wealth of information guides on all things jewellery-related, from the Four Cs of diamond selection, to Ethical Trading and Hallmarks.
For more information see www.fhinds.co.uk.
Stag and Hen Nights from Maximise:
Helping Naomi and Sean side step the usual boozy night in the same old town and the subsequent hangover, is Maximise. More interesting, longer lasting and imaginative hen and stag events are what Maximise specialises in… and so far the company has sent over 270,000 people on weekends across the UK and Europe for VIP Pamper Weekends, S e x and the City themed Hen Weekends, Clubbing Weekends or for PaintBalling Weekends, Surfing Weekends, Football Weekends, Max Out Weekends with Quad Bikes, Karting or supercar experiences.
As well as these more imaginative events, the company also organises European and UK city breaks to imaginative and wild or relaxing and slow-paced destinations.
For more information see www.maximise.co.uk.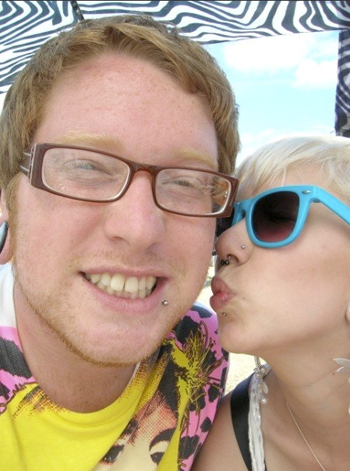 Above: Sean and Naomi will marry in October.
Above: The couple will marry at the beautiful Landguard Manor!
Above: Naomi's attendants will wear Mori Lee gowns.
Above: Sean's Groomsmen will wear Formal Hire from Formally Yours.