Wedding Competition Winner 2011 Ties the Knot
Just seven months after winning our £25,000 wedding competition from the UK's number one wedding website, Rhiannon Davies and Oliver Simmonds have tied the knot. Find out here about how their wedding dream came true...
Congratulations! Seven months after winning a £25,000 wedding from the UK's number one wedding website, Rhiannon Davies and Oliver Simmonds have tied the knot.

On February 14th 2011, Rhiannon Davies became UKbride's wedding competition winner. The Surrey based bride-to-be could not believe that she had won our amazing annual prize.

"I wasn't sure whether it was really happening or if I had entered some parallel universe." Rhiannon says. "I called Ollie - my fiancé - and my brother... neither of them believed me, they thought I was pulling their legs!"

On coming to terms with the news the couple soon began to plan their dream wedding with the help of our wedding partners. It was Rhiannon's Chief Bridesmaid Amy Hallowes, who was charge of organising the hen do, and the rest of the wedding soon started to come together.

"We have chosen our rings from F Hinds, and I have been looking at Bridesmaid dresses on Mori Lee - there are too many nice ones and I'm spoilt for choice!" she said.
It was this Saturday, 10th September, that the couple finally tied the knot, courtesy of UKbride. As we caught up with the happy couple, Rhiannon explained: "Even though it did rain a little on the day, no one took any notice because everything was so perfect. I can't wait for the pictures to arrive."
"Michael and David, the photographers, were fantastic; everyone loved them, they put everyone at ease, and we couldn't have hoped for anyone better."

Rhiannon decided to wear a tight fitted strapless dress, which was covered with lace and crystals, with a long train incorporated into the design. Oliver wore a traditional black suit, with a white shirt, supplied from Formally Yours.

"The dress was quite tight, and the train was very long, but I loved it so much I wore it all night. Ollie thought I looked beautiful, and that's what matters. Ollie looked very handsome too. He's normally just a t-shirt and jeans guy, so he looked especially handsome."

Rhiannon and Oliver are heading off on their honeymoon today, and are lucky enough to be having two honeymoons to celebrate their wedding. The couple had planned to have a road trip from Las Vegas to San Francisco, and are going to Saint Vincent and the Grenadines early next year for the honeymoon they won with UKbride.

As we can see from the pictures, the day was magical. The wedding was a dream come true and UKbride made it all possible for this happy couple to walk down the aisle and tie the knot.

Talking about UKbride, Rhiannon says: "Everyone is so lovely and supportive on the site. You can chat about everything, wedding or non-wedding, and it just feels like an amazing support group. I have never met these women, but I feel like I've gotten to know many of them, and it's nice to be able to turn to people in the same boat as you."

"I have found UKbride to be fantastic for all sorts of information and would genuinely recommend it to any bride-to-be."

We at UKbride would like to congratulate Rhiannon and Oliver, and wish them all the best for the future.
Watch this space for the dream wedding competition 2012!

Our Wedding Partners…

We select some of the very best wedding partners to give our winners the dream day they deserve, creating our dazzling day are the following experts:

Kuoni honeymoons: Kuoni aims to create your perfect honeymoon, from romantic resorts to buzzing cities and even thrilling safaris. Many of their hotels feature special Kuoni honeymoon offers, including room upgrades, intimate dinners and heavenly spa treatments. The Kuoni Personal Travel Experts can tailor-make your honeymoon from scratch. They have won many awards, which includes the World's Leading Tour Operator title for 11 years in a row. Your honeymoon is safe in their hands. Find out more at: www.kuoni.co.uk/

MF Photographics: Founded in 2005 by Michael Fagan. MF Photographics can offer a wide range of services, from weddings to studio portraits, commercial work and school photography. MF Photographics cover the whole wedding day with two photographers, starting with the Bride at home, the Groom at the church, best man, ushers and guests arriving. They stay with you all day to the first dance. The company also offer a full range of Modern Graphic Story Books. Find out more at: www.mfjpegs.co.uk

Mori Lee: Mori Lee dresses are the epitome of elegance with feminine designs and beautiful fabrics.  Mori Lee designs feature a collection of 'destination dresses,' with delicate chiffon dresses ideal for an exotic beach wedding. Each dress features its own personal touch of exquisite embroidery lace, stunning beadwork or glistening hand-sewn Swarovski Crystals. Find out more at: www.morilee.com

Formally Yours: Formally Yours allow the groomsmen to hire any complete outfit for just £65, and all suits are delivered eight days before the wedding for complete peace of mind, and are collected two days after your wedding Operating entirely online, it's great for weddings in which the groomsmen come from different parts of the country. All suits include a jacket, trousers, shirt, waistcoat, cravat and handkerchief for a polished look. With ten styles and lots of accessories online, plus free fabric swatches available, the company provide the ultimate service for any dream wedding. Find out more at: www.formallyyours.co.uk

F Hinds: F Hinds, whose 100 branches and 150 years reputation reflect the company's extensive experience providing quality jewellery for any occasion. The company's website features a wedding guide with advice on how to choose your engagement and wedding rings. From different metals, patterns and finishes, to size and shapes, along with a wealth of information on all things jewellery related. Find out more at: www.fhinds.co.uk

Hen and Stag Nights from Redseven: A wedding is a one off occasion which deserves a legendary send off. The team of party experts at Redseven are renowned for their diverse, unconventional and innovative ideas. By booking with Redseven, customers can be assured of great value, great service and great protection! They also do all the hard work for you! In their customers' eyes, and our own, Redseven is a company that is trusted and stands for value for money, quality, glamour, innovation, and bags of fun! Find out more at: www.redsevenleisure.co.uk/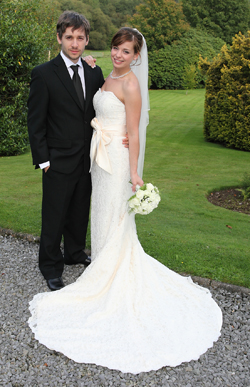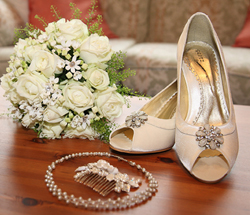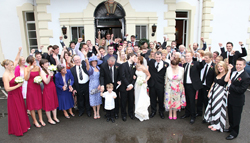 All photographs by MF Photographics.